I hope you all are ready for this... Anthro Knock-off Week has officially begun!
As I explained in the announcement a few weeks ago, I've joined four other bloggers to bring you 30 anthropologie knock-off tutorials in just seven days. Crazy right?! A
t the end of this post you can find photo links to today's other four projects as well as a link to our Pinterest board. To make things even more exciting, we'll be having a themed link party on Saturday! Stay tuned for new daily posts, and be sure to check out our other lovely bloggers.
I don't know about you, but this rhino bag makes me want to go on safari. What's even more exciting is how simple the tutorial is. Happy Crafting!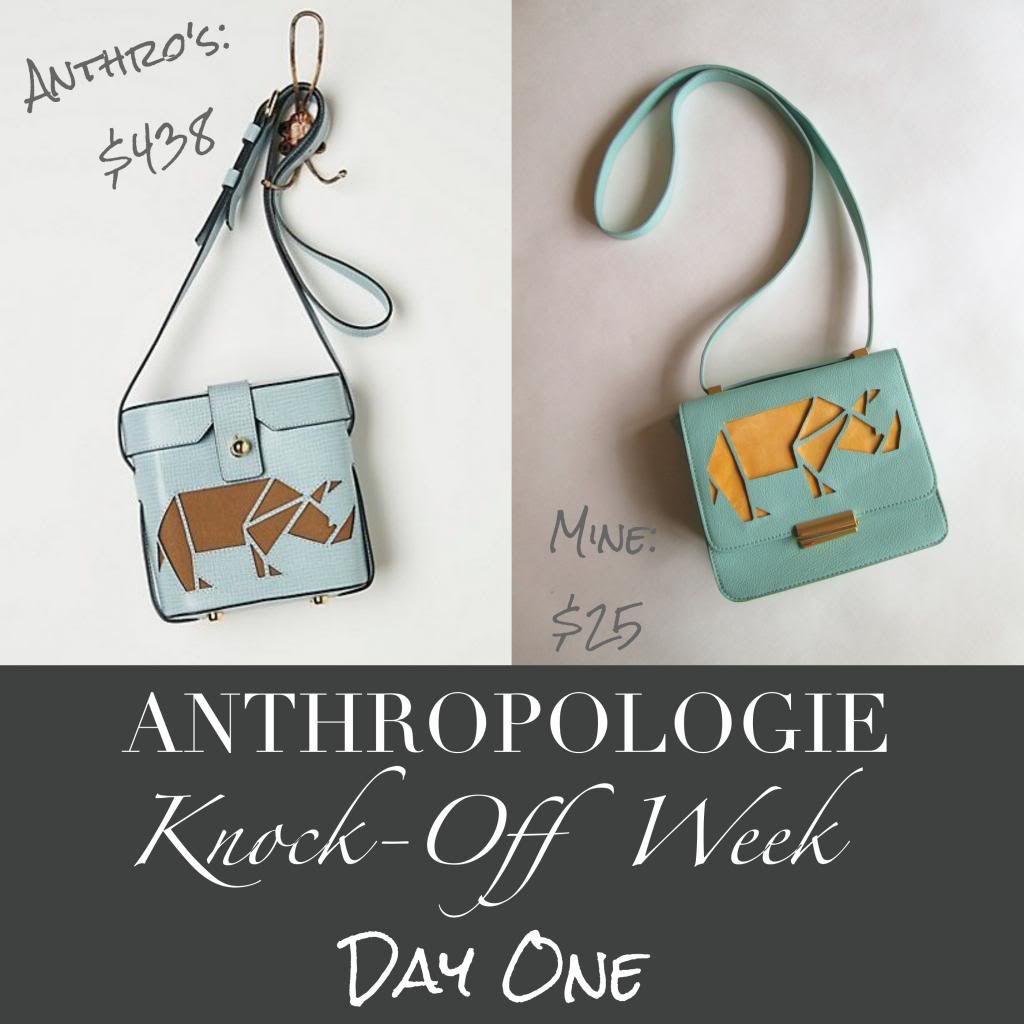 Purse – I used this blue purse from Forever 21. It needs to have either a plain flap or a plain front panel without any embellishments. Clasps should be towards the bottom (like mine) or top, not in the middle. Alternatively, you can use a zip-up purse or a purse without any closures at all.
Leather – My leather pieces came from a scraps package that I originally used for the Leather Coasters. It can be any color, texture, or thickness. Ideally you'll use one large piece, but you can use several medium to small size pieces – it'll just take a little more work to get them sized right so they line up without over lapping.
Exacto Knife/Razor blade + Scissors.
Glue – I used Aleene's Fabric Fusion.
Craft tape – it can be clear or blue painter's tape, but try to avoid packing tape.
Begin by drawing your pattern on a sheet of paper. I just zoomed in on the Anthro photo and then traced it. It can be any size you'd like, but the gaps in between each cutout shouldn't be smaller than ¼ of an inch. When they get to that size, it becomes hard to cut and remove the sections without stretching out the leather.
After planning out the placement of the rhino, cover that area of the purse in tape. Then, trace your design onto the tape with the permanent marker. The tape will protect your purse from stray marker lines, etc. If you make a mistake, it wont be as big of a deal as if you were drawing directly on the purse. to keep spacing relatively even, I first traced the outside edges while all the pieces were still attached to one another, and then cut them apart to fill in the gaps.
Next, use your exacto knife to cut out each shape, being sure to cut deeply enough to remove the piece without going through the other side. Most faux leather is made of two layers, and you'll need to remove both. So on the backside (inside of purse/flap) there's fabric, then a piece of cardboard, and then a layer of faux leather, which is usually two in one. My faux leather wanted to split in half, so I removed the top piece, and then cut deeper to remove the second. You can see the second layer I'm referring to in the photo below. When you've cut all the way through, you should see cardboard or, if your purse doesn't have any (which is highly unlikely), the fabric that's on the backside. If the newly cut edges are plain white, you may want to color or paint them to blend in with the new leather you've selected. I used a yellow sharpie.
Next, you can slide your sheet of leather into place by going under the edges of each cutout. I used the biggest middle section as my entry point, and used a bobby pin to slide the leather into all of the corners until it laid flat and each hole was filled. It can be glued into place with fabric glue. I put glue in-between the new leather and the cardboard, and in-between the new leather and the original faux leather. Be careful not to apply too much, as the glue tends to squish out, and you don't want it to by visible. I placed my purse under weight so it would dry flat.
That's it! I cleaned up my edges a bit with the exacto knife so that they were cleaner.
This post is part of Anthropologie Knock-off Week! I've joined up with four other bloggers to bring you 30 fun Anthro themed tutorials. To see what our other bloggers have shared today, take a look at the photos below. Happy crafting!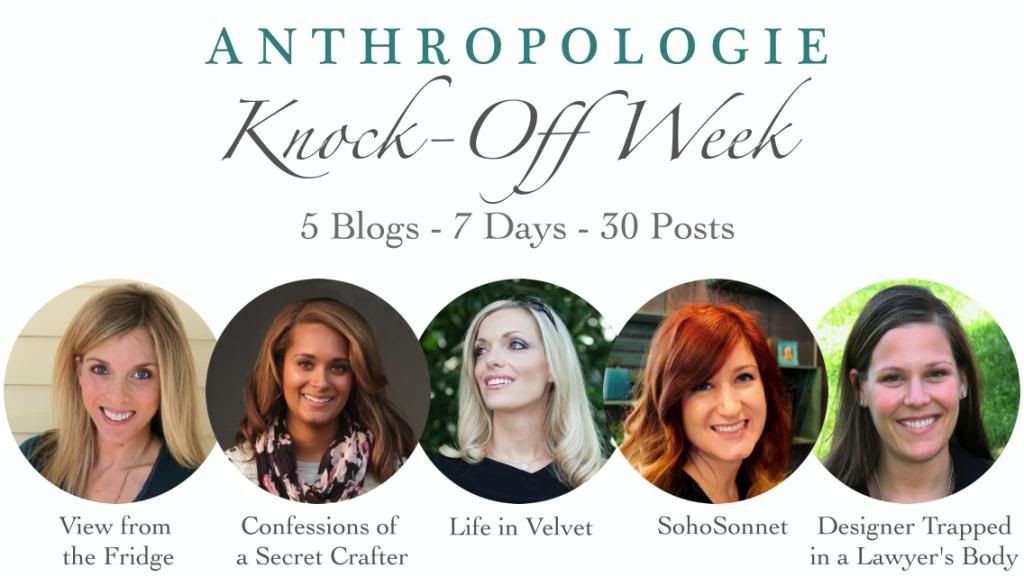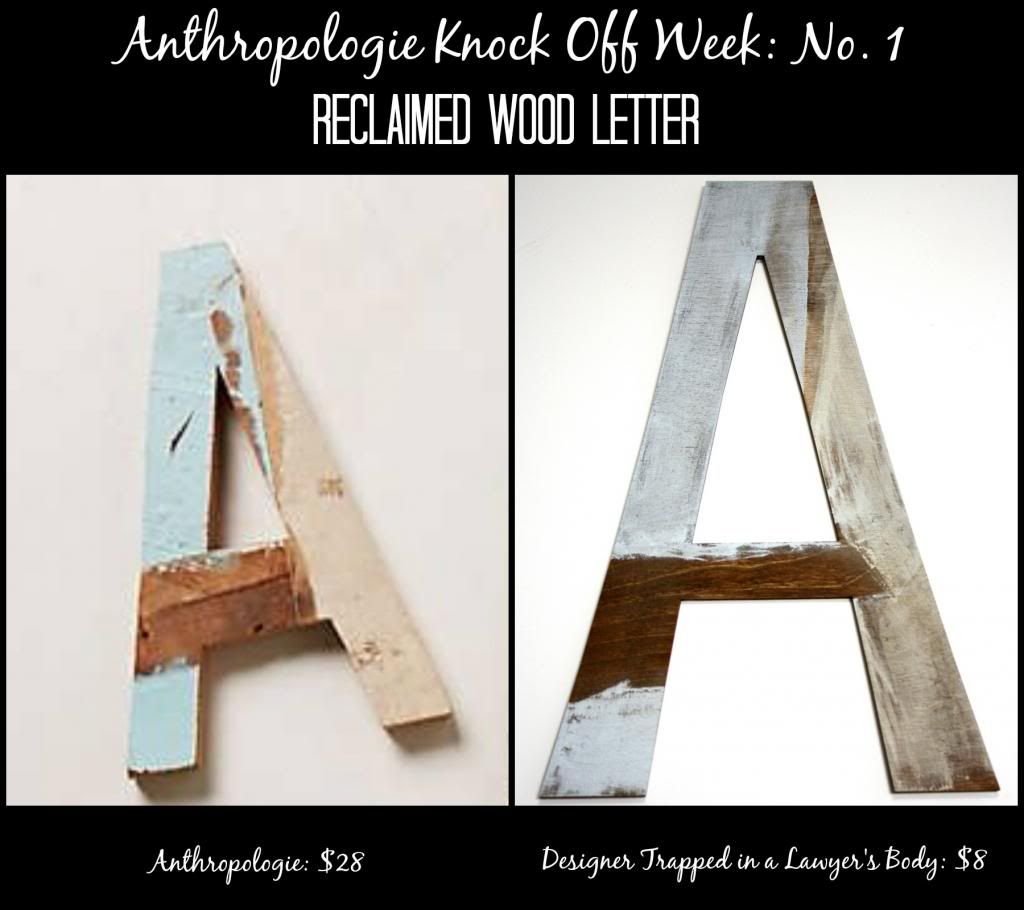 This post was featured on Learning, Creating, Living, Flamingo Toes, Craft Dictator, The Idea Room, Whipperberry, SohoSonnet, Delineate Your Dwelling, Dream a Little Bigger, Yesterday on Tuesday, and House by Hoff.